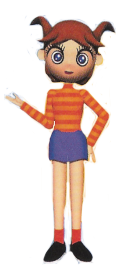 Naomi Canbell (ナオミちゃん) is one of the main protagonists of Planetokio. She is Iken's love interest and Dr. Canbell's daughter. She is voiced by Lauren Tom and by Haruka Shimotsuki in Japanese.
Official profile
Edit
"Ostensibly to cut and fill your fishmonger's "Sakanasei" poster girl. It's girlfriend of opinion, leave opinion is swayed by realistic Naomi chan unyielding."
―[1]
Planetokio
Edit
Coming soon!
Personality
Edit
Coming soon!
Appearance
Edit
Coming soon!
Naomi's hairdo is made to look like a fish, with 2 fins and a tail.
Although she is a friend of Iken, she is not related to him by blood despite how bonded they are.