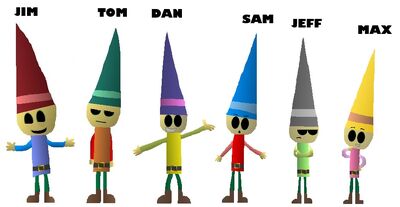 The Elves are characters from the Gabriel Garza series. They are small elves who are resembled as gnomes, wear conical caps on their heads. Elves have standard English names (see below).
Appearance
Edit
The elves wear a conical cap that had a stripe and wear a long sleeved shirt that can come in any color. They also wear green pants, a belt, and brown boots. These little guys also tend to have cute eyes.
Personality
Edit
The Elves have standard English-style names. Mentioned in the television series, other media and the films are Jim, Tom, Dan, Sam, Jeff, Max, Kenny, Jack, Gary, Jon, Larry, Jerry, Nick, Ben, John, Cody, Manny, Bob, Carl, Mark, Brian, Peter, Ted, Norm, Quentin, Bill, Frank, Ernie, Tommy, Steve, Andy, Dale, Mike, Otis, Tony, Victor, Brad, Evan, Alex, Juan, Earl, Mitch, Donald, Fred, and Chris.
Notable Elves
Edit
Elves Who Appear in All Media
Edit
Jim
Tom
Dan
Sam
Jeff
Max
Kenny
Jack
Gary
Jon
Larry
Jerry
Nick
Elves Who Only Appear in the Gabriel Garza FilmsEdit
Ben
John
Cody
Manny
Bob
Carl
Mark
Brian
Elves Who Only Appear in Gabriel GarzaEdit
Peter
Ted
Norm
Quentin
Bill
Frank
Ernie
Tommy
Steve
Andy
Dale
Mike
Elves Who Debut in Gabriel GarzaEdit
Otis
Tony
Victor
Brad
Evan
Alex
Juan
Earl
Mitch
Donald
Fred
Chris
Elves Who Debut in Gabriel Garza 2Edit
Coming soon!
Elves Who Debut in Gabriel Garza 3Edit
Coming soon!
Coming soon!
The Elves bear a close resemblance to Toad from the Mario franchise.
The Elves bear some resemblances to the characters from Uchi No Sanshimai (My Three Daughters), an manga/anime series.